African Missions, ISSI hold 'Africa Day 2023 round table on African Continental Free Trade Area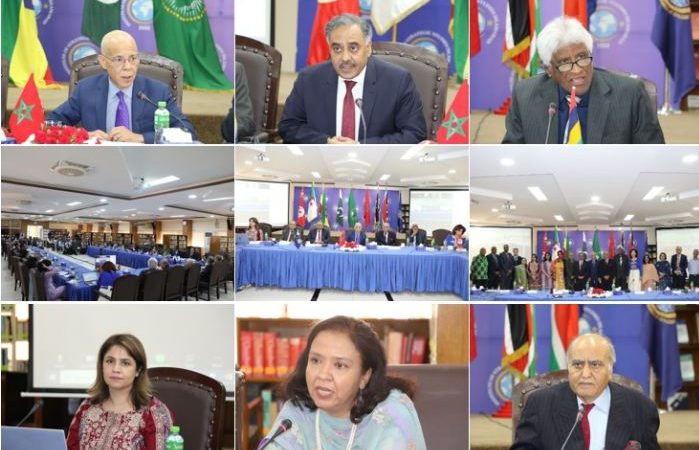 African Missions, ISSI hold 'Africa Day 2023 round table on African Continental Free Trade Area
ISLAMABAD, JUN 8 /DNA/ – The African Missions in Pakistan, in collaboration with the Centre for Afghanistan, Middle East & Africa (CAMEA) at the Institute of Strategic Studies (ISSI), organized a Round Table Discussion on African Continental Free Trade Area (AfCFTA).
The Speakers included: Dean of African Group/Ambassador of Morocco, Mohammad Karmoune; Additional Secretary (Africa) MoFA, Mr. Javed Ahmad Umerani; Wankele Mene, Secretary General of African Continental Free Trade Agreement (AfCFTA) in Accra, Ghana (through Zoom); Director General ISSI Ambassador Sohail Mahmood; Ambassador Khalid Mahmood, Chairman BoG ISSI; and Director CAMEA, Amina Khan.
The Heads of African Missions in Pakistan and Heads of Pakistan Missions in Africa also spoke on the occasion. Senior Officers from the Foreign Office and Ministry of Commerce, academics, area specialists, and members of the business community and students participated in the event.
In his keynote address, Ambassador Mohammed Karmoune, said that Africa has a significant role to play in driving inclusive growth and sustainable development globally. AfCFTA is the common will of the 54 African countries to build a common market for goods and services, unlock the potential for the development of the Continent, and increase the inter-state trade among African countries. He stressed that the main objective of AfCFTA is the Continent's economic integration and development. While talking about Pakistan, he said that business communities from Africa and Pakistan can collaborate in order to benefit from numerous opportunities in the Continent. The implementation of the AfCFTA will undoubtedly unveil an excellent potential for further growth in Pakistan-Africa trade and economic relations.
Director General ISSI Ambassador Sohail Mahmood, in his welcome remarks, stated that for several years now, Pakistan's engagement with Africa continues to grow steadily. In this regard, the "Engage Africa" policy being pursued by Pakistan seeks to expand its diplomatic footprint in Africa and forge a robust economic partnership with the Continent. The Ministry of Commerce's "Look Africa" initiative has been instrumental in the convening of three Trade and Investment Conferences in key economic centers in Africa and has led to an increase in two-way trade. He added that as the process of integration and economic development accelerates in Africa, there are vast opportunities to be tapped for both African nations and their international partners including Paksitan. The most crucial requirement is to make sure that the business communities and potential investors on both sides are fully aware and cognizant of the opportunities being opened up by AfCFTA. In this regard, a continuous flow of information and dynamic interface among all key stakeholders in Pakistan and Africa remain indispensable, he said.
Director CAMEA Amina Khan, while giving her views, said that AfCFTA represents significant growth potential for the African economy, as it establishes a structure for fostering regional economic integration, growth, and progress throughout the Continent. The agreement has the potential to offer Pakistan fresh avenues to enhance its trade and investment connections with African nations, thus generating business and reinforcing economic relations. Amidst the extensive discussions and discourse surrounding the untapped trade potential between Pakistan and Africa, today's primary objective is to investigate and explore economic prospects and identify areas of collaboration between Pakistan and Africa.
Mr. Javed Ahmad Umrani, Additional Secretary (Africa) at the Ministry of Foreign Affairs, underlined how AfCFTA represents a historic milestone, uniting the African nations under a single market, and creating a platform for economic growth, job creation, and sustainable development. He added that Pakistan reaffirms its unwavering support for the objectives and aspirations of the AfCFTA and recognizes the immense potential that lies in deepening our economic engagement and forging stronger trade links with our African partners. He re-stated Pakistan's commitment to the AfCFTA's objectives, efforts to overcome the challenges, and work in tandem with its African partners.
While expressing his views H.E. Wamkele Mene, Secretary General AfCFTA Secretariat, stated that AfCFTA is an incredible tool for the implementation of the vision of an integrated Africa as articulated by the founding fathers of the Organization of African Unity (OAU). He went on to say that since the inception of the AfCFTA, significant progress has been made as forty-seven countries have ratified their agreements establishing the AfCFTA and implementation is in full swing.
An interactive discussion followed, where representatives from the African Missions based in Pakistan and representatives from the Pakistani Missions based in Africa highlighted the importance of AfCFTA and Pakistan's closer economic ties with Africa. They also provided updates as well as suggestions on growing trade, economic and investment ties, and people-to-people exchanges.
During his vote of thanks, Ambassador of Mauritius H.E. Rashidally Sobadar said that Africa holds a substantial reservoir of young people, possessing about 30 percent of the world's mineral resources and agricultural land which offers a lot of opportunities for Pakistan. To genuinely transform Africa, investment through the AfCFTA is imperative as it facilitates the free movement of goods and people. He opined that by uniting efforts towards upholding the rule of law and establishing a robust financial sector, Africa is poised for a bright future, fostering prosperity.
In his concluding remarks, Ambassador Khalid Mahmood, Chairman BoG ISSI highlighted the need to understand how Pakistan can benefit from the opportunities emerging through AfCFTA and stressed the importance of Pakistan's deeper engagement with the African Continent through its 'Engage Africa' Policy.
The event was part of the commemoration of Africa Day 2023 in Pakistan as well as continuous efforts to realize the full potential of Pakistan-Africa economic relations in the context of pivot to geo-economics as well.