Afghan peace tops army chief's US visit agenda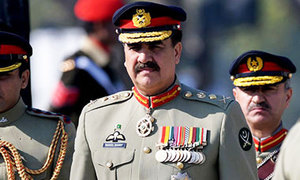 ISLAMABAD: A new push for the resumption of stalled Afghan peace process looks imminent as Army Chief Gen Raheel Sharif embarks on a five-day long visit to the United States."There is a visible possibility for a new push for resumption of the reconciliation process," a senior official said in a background interview with Dawn on Saturday.Afghanistan, sources confirmed, was at the top of agenda of Gen Sharif's visit, which commences from Monday. The visit, according to a Washington-based source, is being attached "unprecedented" importance.
Gen Sharif would meet Vice President Joe Biden on Thursday (Nov 19). Meeting at this level is rare for any military chief visiting US.
Other meetings that Gen Sharif would have during his stay in Washington include Secretary of State John Kerry, Defence Secretary Ashton Carter, Chairman of the Joint Chiefs of Staff Gen Joseph Dunford, Army Chief of Staff Gen Mark Milley and Director CIA John Brennan.