9th Edition of Think-Tanks Forum Held in Kunming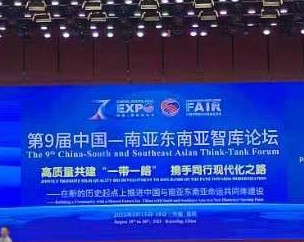 9th Edition of Think-Tanks Forum Held in Kunming
DNA
The 9th edition of the China South Asian and Southeast Asian Think-Tanks Forum was held on August 16-17, in Kunming – the capital of China's Yunnan province.
The illustrious event was organized mainly by Yunnan Academy of Social Sciences / Chinese Academy (Kunming) of South and Southeast Asian Studies, National Institute of International Strategy at the Chinese Academy of Social Sciences and China Centre for Contemporary World Studies of the International Department of the CPC Central Committee.
The forum was hosted by the Chinese Academy of Social Sciences, People's Government of Yunnan Province and Silk Road Think Tanks Association.
Several think-tanks from China and abroad were among the co-organizers, including Pakistan's Eurasian Century Institute.
Senior experts, intellectuals, officials and diplomats from China, South Asian and Southeast Asian think-tanks and research organizations participated and exchanged views on a wide range of topics under the main theme of the event: "Jointly Promote High-quality BRI Development to Join Hands on the Path towards Modernization——Promoting Building a Community with a Shared Future for China with South and Southeast Asia at a New Historical Starting Point"
Organized regularly since 2013 except for the obstacles cause by COVID-19, this forum is becoming a noted platform among intellectuals of the wider region. As noted by Irfan Shahzad Takalvi, head of Eurasian Century Institute in his presentation, "this Think-Tank Forum has actually become one of the most prestigious platforms of intellectual exchanges between the experts and observers of China, South Asia and Southeast Asia."
Parallel, the 7th China South Asia Expo is also being held in Kunming from August 16 to 20, 2023. Participants of the forum also participated in the Opening Ceremony of the Expo.