Sangam Club: The new hop in Pakistan-China ties: Chinese envoy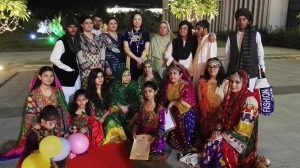 ISLAMABAD, SEPT 10 (DNA) – Chinese ambassador Sun Weidong, on Sunday, said that Sangam Club is another step in bolstering people-to-people contacts and Pakistan-China friendship.
He was addressing the participants of Annual Sangam Club Gala 2017 held at the Chinese embassy. Senate Foreign Relations Committee Chairman Nuzhat Sadiq; Madam Diana Bao, the chairperson of Sangam Club; HEC chairman; Charge d' Affairs Chinese Embassy Zhao Lijian; PNCA Director-General Jamal Shah and others were present at the occasion.
Talking about China-Pakistan Economic Corridor (CPEC), the ambassador said that as the flagship project of the Belt and Road Initiative, the CPEC has entered the stages of early harvest.
"At present, 19 projects are under construction or completed with a total investment of $ 18.5 billion.
The CPEC has directly created nearly 20,000 local jobs. Chinese enterprises are focusing on training the youth talents, providing them with training opportunities, and sponsoring many young people to study in China," he added.
"14 pairs of friendly provinces or cities are established. There are around 18,000 Pakistani students studying in China last year. The number of Pakistani students enjoying Chinese government scholarships is 5,081—ranking first in the world," he added.
Sun Weidong said that the Sangam Club since launch had arranged trip for over 200 people for China, including teachers, students, medical staffs, and journalists.
Referring to Foreign Minister Khwaja Asif's visit to Beijing, the envoy said, Pakistan has been a victim of terrorism for years and also an important participant in international anti-terrorism cooperation. "The tremendous efforts and national sacrifices made by the Pakistani government and people should be fully acknowledged by the international community."
"Sangam is not a club. We are one family. The Chinese Embassy is your second home. Welcome; come again, and enjoy yourself," the envoy said.
Madame Diana Bao had invited special students from Balochistan who performed cultural and national songs. The performance of special kids captivated the audience. Principal Special School Kalsoom Rashid had made special arrangements for the special children.
Chashman Khan, a student from Pishin, shared her experience of her recent trip to China where the students attended the BIEE Summer Camp.
She expressed her gratitude to Diana Bao for arranging the visit to China of children from remotest villages of Balochistan, Khyber Pakhtunkhwa and Punjab.
Students from Hazara Public School and artists from PNCA also performed Punjabi dances. On the occasion, Chinese cultural performers also fascinated the gathering.
Pakistani delegates who had visited China came all the way from Peshawar, Quetta, Karachi, Sargodha and Hazara Division for the reunion at the Gala.
Senator Nuzhat Sadiq said that mutual cooperation can put both countries on the path of development and prosperity.=DNA
=========