ICCBS of Pakistan Becomes UNESCO's Category-II Partner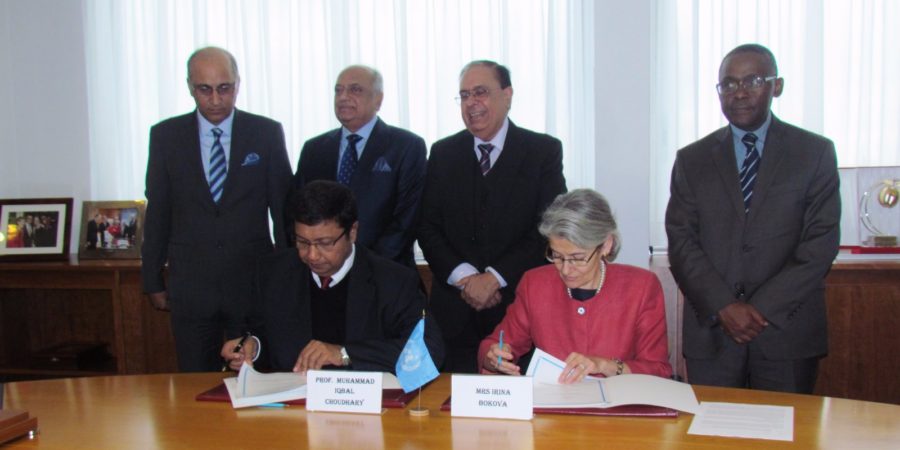 Paris 21st November, 2016. International Centre for Chemical and Biological Sciences (ICCBS) of Pakistan, has officially became the Category-II partner of United Nations Educational, Scientific and Cultural Organization (UNESCO). The partnership agreement was signed between Director General UNESCO Ms. Irina Bokova and Dr. Iqbal Choudhary, Director of ICCBS in an impressive ceremony held at the UNESCO's head quarter in Paris, France, today.
The ceremony was witnessed by the Ambassador of Pakistan to France Mr. Moin-ul-Haque and former Federal Minister Prof. Dr. Atta-ur-Rahman, founding member of the Centre.
The Director General UNESCO Ms. Irina Bokova termed the signing of the said agreement and historical occasion and appreciated the research work done by the institute in the fields of basic and applied sciences.
Dr. Iqbal Choudhary briefed DG UNESCO about history and work of the Centre. He said that ICCBS was among the leading centers of excellence in chemical, biological and biochemical sciences in Pakistan. It was serving as a center for research and training of scholars from various countries of the world. The facilities at ICCBS were at par with research establishments in the West.
The ICCBS was approved as Category-II institute by UNESCO, Executive Board in October, 2015 and by the General Conference of UNESCO in November, 2015 after thorough evaluation, and fulfilling the elaborate criterion of quality assurance and assessment of its technical and research facilities.
ICCBS is the 3rd Pakistani Institution to be honored as a center of excellence by UNESCO in the last two years. Commission on Science and Technology for Sustainable Development in the south (COMSATS) and Regional Water Research Centre on Hydrology of Headwater Catchments, Abbottabad are already designated as of Category-II institutes of UNESCO.