'Raad ul Barq' 2016: PM, COAS witness military exercises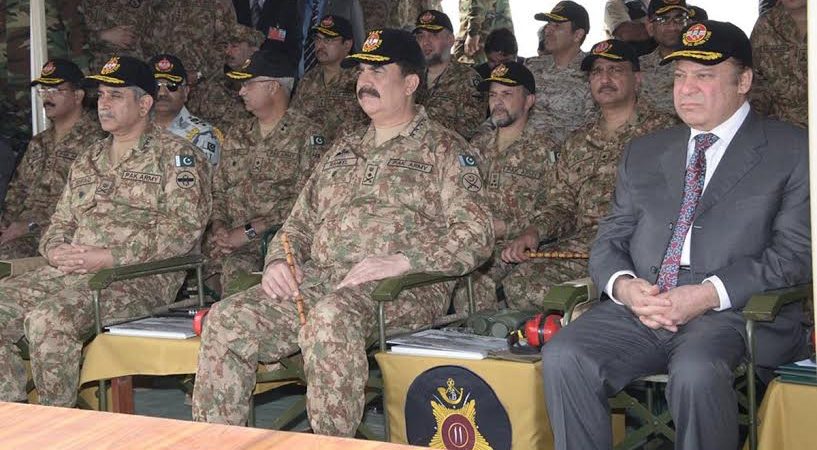 KHAIRPUR TAMEWALI: Prime Minister Nawaz Sharif Wednesday witnessed 'Raad ul Barq' – Thunder of Lightening – military exercise in Khairpur Tamewali firing range of Cholistan desert.
The comprehensive joint exercise conducted by Pakistan Army and Pakistan Air Force showcased the combat readiness of the country's defence line with live firepower demonstration using heavy artillery fighter jets and air defence weapons.
PM Nawaz along with Chairman Joint Chiefs of Staff Committee, General Rashad Mahmoud and three services chiefs witnessed the movement of artillery corp's Khalid tanks successfully engaging targets in the firing range some 70 kilometers from Bahawalpur.
The PAF's fighter aircraft including JF-17 Thunder F-7PG and Mirage hit the targets with agility and precision avoiding the radars.
The manoeuvering Mirage aircraft flew close to ground striking weapons at the designated targets.
The Firing Falcon formation of four F-16 aircraft each capable of carrying 24,000 pounds high explosive bombs enough to target 2 x 2 kilometres of land successfully hit enemy's targets.
The Cobra Gunship and Z10 helicopters fired missiles having six kilometres range and successfully engaged the targets.
The helicopters of Army Aviation Combat Group that participated in the Operation Zarb-e-Azb also demonstrated their combat potential.
The exercise also demonstrated indigenously developed surface-to-air missiles, multi-barrel rocket launchers, sky radars for target detection and rocket propelled target system.
The demonstration concluded with a flypast by F-16 aircraft receiving thunderous applause by the audience.
Army Chief General Raheel Sharif presented a souvenir to Prime Minister Nawaz Sharif.
Speaker National Assembly Sardar Ayaz Sadiq, Defence Minister Khwaja Asif, Finance Minister Ishaq Dar, National Security Adviser Lt. Gen. Nasser Janjua, Air Chief Air Marshal Sohail Aman and Naval chief Admiral Zakaullah and ambassadors attended the event.
Deputy chief of staff of Saudi armed forces especially arrived in on behalf of the Saudi Crown Prince to witness the military exercise.=DNA 
=====================