President hosts dinner in honour of Erdogan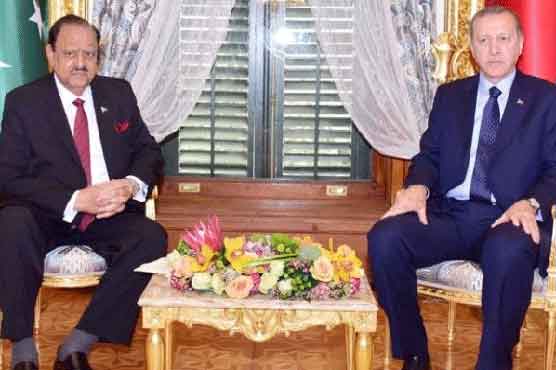 ISLAMABAD, November 16 (DNA): Turkish President, Recep Tayyip Erdogan has convened a meeting with Pakistani counterpart, Mamnoon Hussain on Wednesday who hosted a dinner in his honour at the President House.
The leaders convened a meeting and agreed to continue cooperation to counter terrorism.Erdogan agreed with President Mamnoon Hussain that United Nations
Organisation (UNO) needed to investigation Indian brutality in Kashmir valley that she has been occupying for at least seven decades.
During the meeting he said that unjustified support of India in the world was taking a toll on Pakistan's interests.Erdogan arrived in Pakistan earlier this evening along with the first lady of Turkey.
The Turkish delegation comprising of ministers led by the president was welcomed by Prime Minister (PM) Nawaz Sharif along with his wife and daughter among other dignitaries.
The Turkish President was welcomed at the President House by Mamnoon Hussain and wife following which a dinner was hosted in honour of the visiting Turkish leader.
Erdogan is scheduled to address a joint session of the parliament on Thursday after which he would visit Lahore where Chief Minister (CM) of Punjab,
Shehbaz Sharif would host a banquet in his honour at Lahore Fort and 'Greater Iqbal Park' would be inaugurated during the visit.Turkish leader's visit to Pakistan will span over two days. =DNA
======================