Justice Siddiqui being sworn 31st governor Sindh today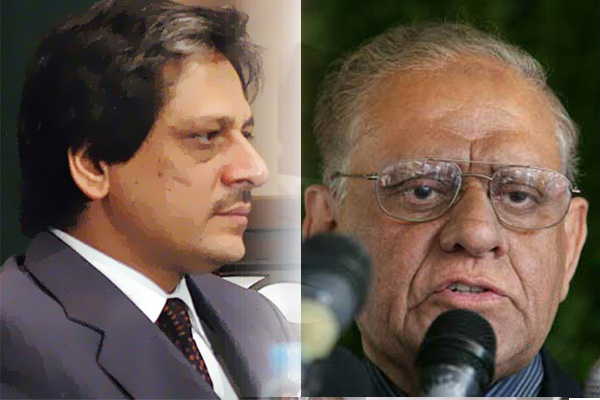 KARACHI, NOV 11, (DNA) : Former Chief Justice Saeed-uz-Zaman Siddiqui is set to sworn in as the 31st governor of Sindh today (Friday), as the outgoing one Dr Ishratul Ibad Khan spent a busy day having farewell meetings with dignitaries and senior government officials.
Chief Justice of the Sindh High Court Syed Sajjad Ali Shah would administer the oath of governor to Justice Siddiqui at a ceremony scheduled to be held at Governor House on Friday, an official said.
While no official announcement had been made for the ceremony, the broadcast media speculated the day and time of the ceremony on their own, the official added.
Meanwhile, Chief Minister Murad Ali Shah paid a farewell visit to the outgoing governor and lauded his contributions for the development and progress of the province. According to a statement issued by Governor House, Dr Ibad expressed the hope that Sindh would make a rapid headway under the leadership of Mr Shah. The statement quoted the CM as saying that Dr Ibad guided him in his assignments and he, too, was optimistic that timely completion of development projects would spur the process of progress and help serve the people of Sindh.
Pakistan Marine Academy Commandant Commodore Akbar S. Naqvi, Chief Secretary Siddique Memon, Inspector General A.D. Khawaja, Additional IG Mushtaq Mahar, Citizens-Police Liaison Committee chief Zubair Habib also paid farewell visit to the outgoing governor.
Dr Ibad also held a farewell meeting with his staff and employees of Governor House. He thanked them for the services and cooperation during his 14-year tenure as the governor.
Meanwhile, an official video released by Governor House showed Dr Ibad in a light mood during his meeting with senior officials of police and other institutions. "I have decided to write a book," he could be heard in the video telling the participants in the meeting.
In reply to a question about the proposed name of the book, he replied: "I think it should be Jo Mai Na Keh Saka [which I couldn't share]."=DNA
===========