General Raheel Sharif, COAS visited Kharian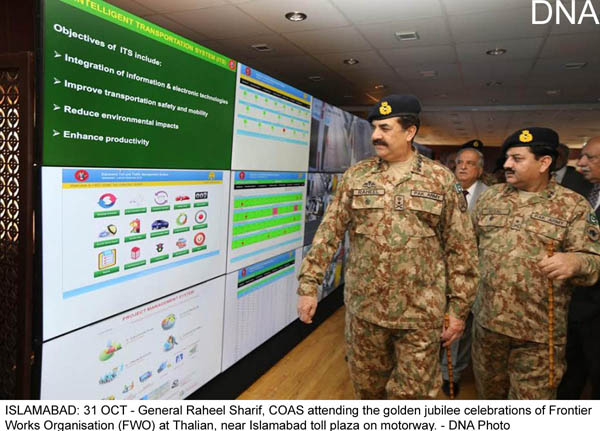 General Raheel Sharif, COAS visited Exercise Area around Kharian/Gujranwala and witnessed troops engaged in the ongoing Army Field Exercise. COAS was briefed in detail about objectives and conduct of the Exercise from newly inducted hitech net enabled virtual war room. He later also witnessed field manoeuvres at night.
Army field exercise is being conducted in Central and Southern Command to validate operational plans and enhance own preparedness. Infantry and Mechanised columns of the central Comd with their requisite supporting troops and Punjab Rangers are carrying out the Exercise. COAS appreciated an excellent standard of training, professional skills and high morale of the participating troops.
Comd Central Comd, Lt Gen Umar Durrani, Comd Gujranwala Corps Lt Gen Ikram Ul Haq and IGT&E Lt Gen Qamar Bajwa were also present.
COAS appreciated all those responsible for imparting training at NCTC with a focused approach in enhancing capacity building of LEAs through quality training, making best use of this fully equipped facility.
The new facilities have turned NCTC into a leading counter terrorism training facility among the contemporary Armies.
COAS was briefed by Lt Gen Umar Farooq Durrani, Commander of the Strike Corps on various aspects of NCTC. The commander also apprised COAS that so far 231,000 troops of the Armed Forces and 3,483 officers and men of Police and Civil Armed Forces have been trained at NCTC.
He said that besides imparting anti-terrorist training at the centre, five joint exercises have also been conducted at NCTC with friendly countries which include China, Kingdom of Saudi Arabia, Bahrain, Sri Lanka, Maldives and Turkey.