France promoting connectivity among young entrepreneurs: envoy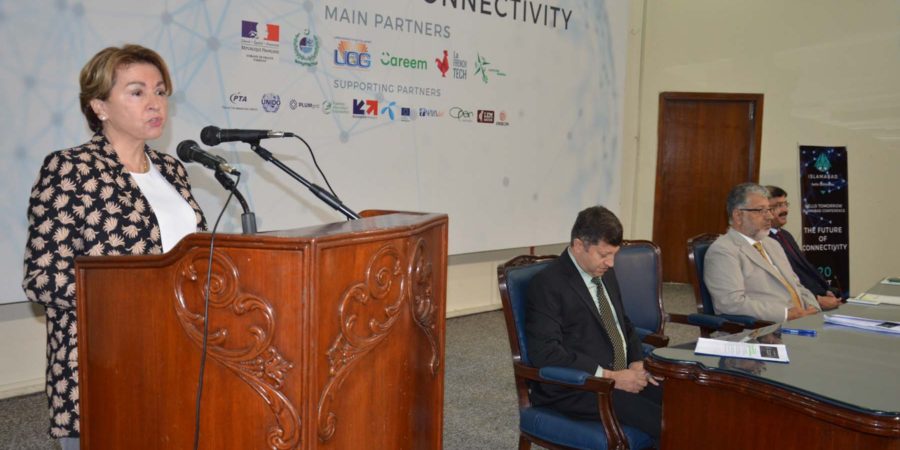 ISLAMABAD,OCT 20 (DNA) – The Higher Education Commission (HEC), Pakistan in collaboration with the Embassy of France and Hello Tomorrow organized a Summit on Innovation and Entrepreneurship at the Commission Secretariat on Wednesday, with an aim to enhance connectivity of the local ICT talent to global opportunities.
Mrs. Martine Dorance, Ambassador of France to Pakistan was chief guest on the occasion.
In her address, Mrs. Dorance said that Hello Tomorrow is a French initiative promoting connectivity among young entrepreneurs from across the world and bringing experts closer to discuss future technological challenges. She said it aims at developing links between academia and start-ups.
"Pakistan has talented people particularly youth, and the number of start-ups in the country is rapidly growing, and holding this event reflects the political will of both the Governments to enhance collaboration in fostering innovation and entrepreneurship," she said.
Dr. Mukhtar Ahmed shed light on how rapidly the technological innovations are changing the trends prevailing in different sectors and how they require masses to prepare themselves to welcome the future. "We need to work together with our friendly countries to make our future brighter," he stressed.
The Chairman said that HEC is committed to promoting  entrepreneurship and research activities in Pakistani universities. He informed the audience that Office of Research, Innovation and Commercialization (ORIC) has been established in universities to make research work innovative and help researchers commercialize their work to increase its impact.
It is pertinent to mention here that in Business as well as Technology Incubation Centres established by HEC at different universities, over 225 companies have been incubated that have generated around Rs. 480 Million in annual revenue and have generated 940 direct employment opportunities.
Only NUST has incubated 53 companies that have generated annual revenue of Rs. 300 Million generating employment of over 150 people. Similarly COMSATS Institute has incubated 43 companies with annual revenue of Rs. 60 Million and creating 160 jobs. University of Agriculture Faisalabad has incubated 21 companies with annual revenue of Rs. 40 Million and generating an employment for 215 people.
IBA Sukkur has incubated 15 companies with annual revenue of Rs. 15 Million and job openings for 54 people. Other Incubators at UET Peshawar, Veterinary University Lahore, Quaid-e-Azam University, BUITEMS, NED Karachi, Institute of Space Technology, University of Gujrat and AJK University have also performed well during the last couple of years.
The Chairman said that the Government has recently approved Technology Transfer project worth Rs. 3 billion under which institutions will be extended technical and financial support in bringing in new technologies.
He added that HEC and the Korean Government have agreed to establish six to eight Technology Transfer Centres in Pakistan.=DNA
=======