50 feared killed in Boko Haram attack in Ngeria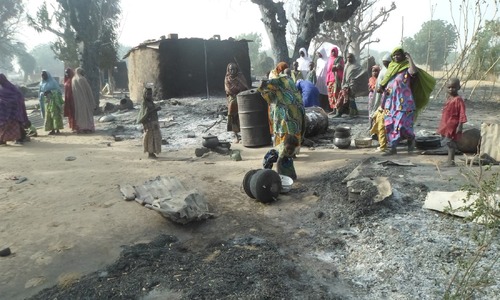 MAIDUGURI: Around 50 people were feared killed when Boko Haram fighters armed with guns and explosives attacked a village in northeastern Nigeria, the army and local residents said on Sunday.
Suicide bombers also carried out deadly attacks on Sunday in the Lake Chad region, an area frequently targeted by Boko Haram, a local security official said.
Nigeria's army said Boko Haram fighters struck Dalori, some 12 kilometres from the northern city of Maiduguri late Saturday, burning down the village and sending residents fleeing into the bush.
Dalori is located near camps set up for people displaced by the seven-year Boko Haram insurgency in the northeast of Africa's most populous country.
"During the incident lives were lost while some people sustained injuries, "army spokesman Colonel Mustapha Anka said in a statement.
Residents and an aid worker said at least 50 people were killed in the assault which took place after evening prayers in the mostly Muslim region.
Anka said the assailants also tried to penetrate the Dalori camp, but they were repelled by the troops.
Boko Haram has kept up a wave of attacks despite President Muhammadu Buhari declaring late last year that Nigeria had "technically" won the war against the group.
In the Lake Chad region, which borders Nigeria as well as Chad, Cameroon and Niger, suicide bombers struck two Chadian villages killing three people, a local security official said.
In the first attack in Guie, a bomber on a motorcycle blew himself up, killing one person and injuring 32, while the second attack in the village of Miterine left two dead and 24 wounded, the official said.
Nigeria, Chad, Niger, Cameroon have formed a coalition along with Benin to fight Boko Haram and have marshalled a force of 8,700 soldiers, police and civilians.
In retaliation, Boko Haram has launched cross-border attacks from northern Nigeria on the neighbouring countries.
In Nigeria, local residents told AFP they fled into the bush when the Boko Haram fighters descended on Dalori.
"We were seated outside our home shortly after the Isha prayer when we heard gunshots and within a few minutes the invaders had arrived," Malam Masa Dalori, a community leader, told AFP.
"They came in Golf saloon cars and began to shoot sporadically. Many people ran to the bush including myself," he said.
"When we came back in the morning the entire community has been razed. At least 50 people were also killed, many others injured," he said.
Mallam Hassan, another villager, gave a similar account.
"I lost an uncle in the attack. But I thank God I escaped with my children," he said.
An aid worker, who did not want to be named, said the bodies of the victims had been evacuated to the hospital. "I think they should be more that 50, while several others were injured, "he said.
Boko Haram fighters have made several attempts to retake Maiduguri — the birthplace of the movement — since they were pushed out three years ago.
The group which seeks a Islamic state in northern Nigeria has killed some 17,000 people and forced more than 2.6 million others to flee their homes since 2009.