4th JF-17 Thunder squadron complete as PAC rolls out 16th aircraft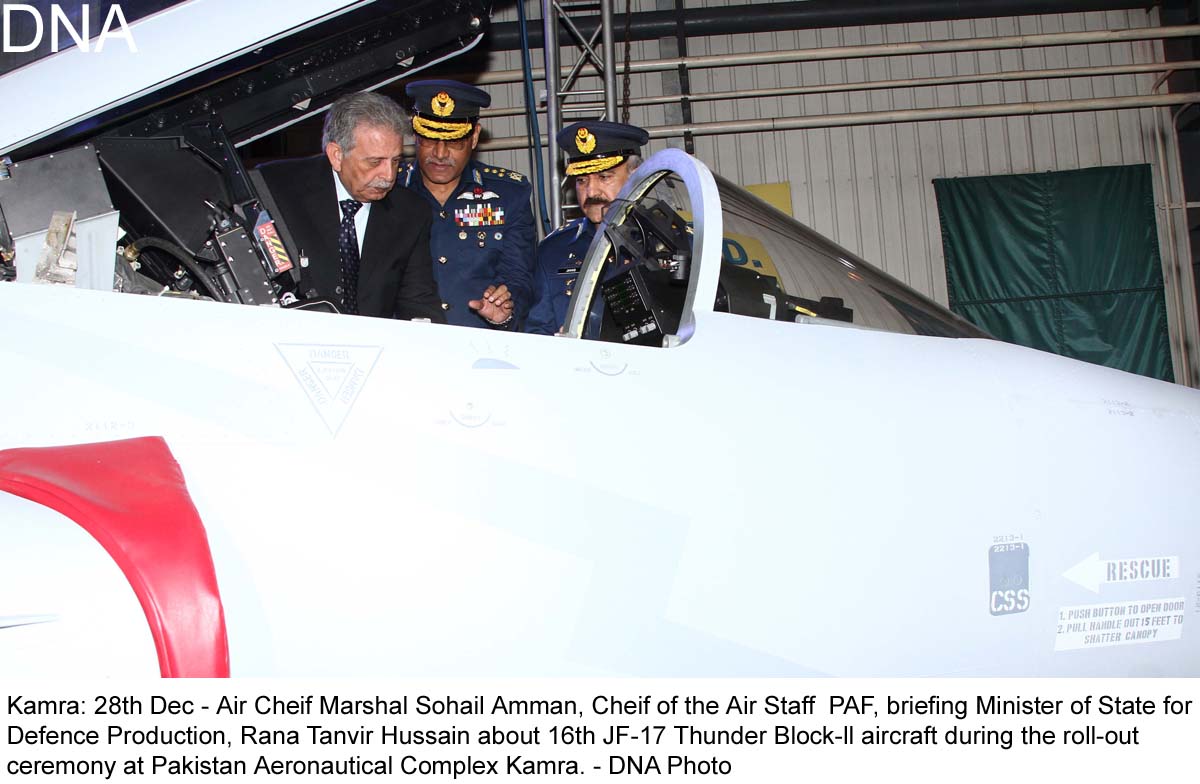 ISLAMABAD: The Pakistan Aeronautical Complex (PAC) on Monday rolled out the 16th Block 2 JF-17 aircraft and formally handed it over to the Pakistan Air force (PAF), marking the completion of four squadrons.
Pakistan Air Force (PAF) Air Chief Marshal Sohail Aman attended the ceremony, with Minister for Defence Production Rana Tanveer Hussain attending as the chief guest.
Hussain reaffirmed Pakistan's commitment towards promoting self-reliance in defence production and thanked the government of China for its unrelenting support.
"I appreciate the vital role played by our time-tested Chinese friends for the success of the JF-17 program. Their support of Pakistan Aeronautical Complex (PAC) Kamra and so many other projects is cherished and highly valued by every Pakistani," Hussain said.
The Chief of Air Staff expressed his satisfaction with the progress of the JF-17 programme.
He praised the professional competence and commitment displayed by PAC personnel in meeting the milestones of the JF-17 programme and urged them to continue their best efforts in pursuit of excellence.
PAC Kamra is responsible for the maintenance of all PAF operational assets.
In 2010, the Chief of the Air Staff at the time, Air Chief Marshal Rao Qamar Suleman had said the aircraft would be the mainstay of PAF's operations, multiply its operational capacity and enable it to conduct day and night multi-role operations which had become imperative in the prevailing global and regional situation.
The JF-17 Thunder, a single-engine multi-role fighter jet, and was jointly developed by China and Pakistan. Development on the aircraft started in 1999, and the maiden flight was conducted in 2003.
The initial Block 1 JF-17s were received in 2007, with production of the upgraded Block 2 JF-17s started in 2013. The upgraded models have upgraded avionics, air-to-air refuelling capability, data link, enhanced electronic warfare capability and enhanced load carrying ability.
The JF-17 can be equipped with air-to-air and air-to-ground ordinance. The aircraft mounts both short-range infra-red air to air missiles along with longer ranged radar-guided BVR missiles, an essential capability for a frontline interceptor.
The aircraft can carry 8,000lbs of ordinance on seven external hardpoints, which is an adequate amount of ordinance for any mission profile. The JF-17 enhances the much needed capability of the air force in beyond visual range (BVR) engagements.
The JF-17 is a capable platform, and is on its way to form the backbone of the PAF. It was reported that between 250 and 300 aircraft will be inducted into the air force in order to phase out the ageing fleet of some other aircraft models that are still in operation.
For the Pakistan Air Force, the JF-17 fills the gap that had arisen due to an ageing inventory, which was further impacted by sanctions placed on the country following the nuclear tests in 1998.