4 soldiers martyred, 5 injured in 'dastardly' Zhob attack: ISPR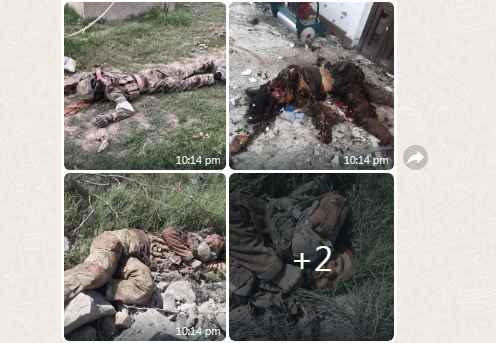 RAWALPINDI, JUL 12: Four soldiers were martyred and five critically injured as terrorists launched a "dastardly attack" on the Pakistan Army's Zhob Garrison in Northern Balochistan, the military's media wing said Wednesday.
In the wee hours of July 12 (today), a group of terrorists launched a dastardly attack on the garrison, the Inter-Services Public Relations (ISPR) said, mentioning that the initial attempt to sneak into the facility was "checked by soldiers on duty".
Upon interception, a heavy exchange of fire took place between the terrorists and soldiers, with the militants being "contained into a small area at the boundary".
A clearance operation by security forces is underway to apprehend the remaining two terrorists as well, the military's media wing said in the statement.
"Security forces remain determined to thwart all such ghastly attempts at destroying [the] peace of Balochistan and Pakistan," the ISPR added.
Terror attacks have increased in Pakistan, especially in Khyber Pakhtunkhwa and Balochistan, as the security forces ramp up operations to eliminate the menace of terrorism.
Terror activities in the country have soared by 79% during the first half of 2023, a statistical report released by the independent think tank Pakistan Institute for Conflict and Security Studies (PICSS) showed.
The report voiced alarm, stating that at least 271 militant attacks took place during the last six months, resulting in the loss of 389 lives and injuring 656 individuals.
The situation in the same timeframe last year was way better as compared to the current, as the first half of 2022 saw 151 attacks and 293 deaths, and 487 injuries.
These figures represent a staggering 79% increase in militant attacks during the first half of this year compared to the corresponding period last year.
Furthermore, the latter half of 2022 recorded 228 attacks, resulting in 246 fatalities and 349 injuries. Thus, the first six months of 2023 witnessed an 18% rise in attacks compared to the latter half of 2022, accompanied by a 58% increase in fatalities and an 88% increase in injuries.
Pakistani security forces have also stepped up their response against terrorism and killed at least 236 militants across the country while 295 suspected militants were also arrested during the first six months of 2023.