15th National Assembly, a remarkable journey amid challenges, achievements: FAFEN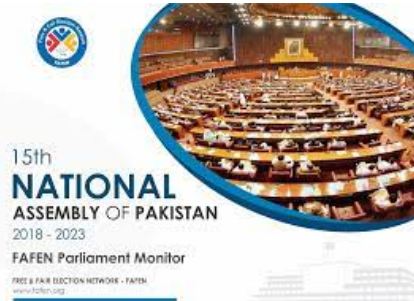 ISLAMABAD, Aug 13 (DNA):The 15th National Assembly showcased extraordinary resilience in the face of intricate political, economic, judicial, and constitutional tests, as it completed its tenure on August 9, 2023. 
The assembly's unwavering commitment to upholding its authority and navigating complex pressures marked a significant chapter in Pakistan's legislative history, said a preliminary report issued by Free and Fair Election Network (FAFEN) on Sunday.
According to the details, surpassing its predecessors in legislative productivity, the outgoing Assembly's achievements were remarkable. Despite 11 percent fewer sittings, it managed to increase its legislative output by an impressive 57 percent. A total of 322 pieces of legislation were passed, compared to 205 bills in the previous term. Private members' bills played a crucial role, with over 30 percent of approved legislation initiated by non-governmental members, showcasing a collaborative spirit within the coalition government.
One of the most defining moments of the 15th Assembly was the successful vote of no confidence against a Prime Minister, leading to a change in government—a first in the nation's history. This historic event underscored the Assembly's role as a robust pillar of democracy.
The legislative achievements were marked by a government-wise distribution, with 54 percent of legislation occurring under the PML-N led coalition government, and the remaining 46 percent under the PTI government. Notably, the Assembly's focus extended to diverse areas, including research and education, economic and financial matters, trade regulations, administration of justice, rights of marginalized groups, and significant reforms in public institutions.
Throughout its tenure, the Assembly demonstrated a commitment to transparency and accountability, despite facing challenges related to attendance and truncated legislative procedures. The lawmakers' dedication to raising questions, moving attention notices, and participating in discussions highlighted their vigilance over the executive's actions.
The 15th Assembly's commitment to progress was further demonstrated through amendments to its Rules of Procedure and Conduct of Business. These changes aimed to uphold national values and enhance the functioning of the Assembly, including the mandatory playing of the national anthem and recitation of hadith before each sitting.
As the 15th National Assembly concluded its journey, it left behind a legacy of resilience, achievement, and dedication to democratic principles. The challenges it overcame and the milestones it achieved have set a precedent for future legislative bodies, reinforcing the importance of a strong and determined parliamentary system in Pakistan's democratic landscape.