21 dead, 100 injured after Hazara Express bogies derail near Nawabshah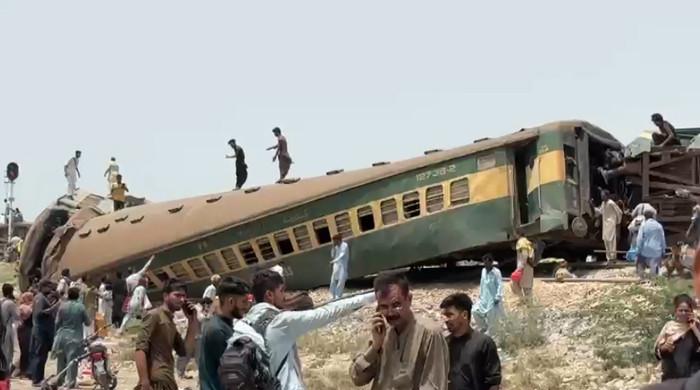 NAWABSHAH: At least 21 passengers were killed and 50 others were injured on Sunday after nearly 10 bogies of Havelian-bound Hazara Express derailed near Sahara Railway Station, located 275 kilometres away from Karachi.
The train operations to and from the interior districts of Sindh were suspended after the train crash, which is feared to cause major material and life losses.
Railway officials said that the restoration of train operation may take 18 hours.
As per details, the wounded passengers were shifted to the People's Medical Hospital in Nawabshah. Authorities fear more injuries as the ill-fated train is said to be carrying a large number of people.
The reason behind the train derailment still remains unknown.
Train accidents are not uncommon in Pakistan, as several incidents have taken the lives of hundreds of people and injured scores of others, but the authorities fail to take measures that prevent such happenings.
Railways Divisional Superintendent Sukkur Mahmoodur Rahman confirmed that 10 bogies had gone off track in the train crash.
He added that a train to carry out relief activities is arriving at the site of the incident from the Loco Shed Rohri. It will take at least three hours to reach the site.
"Due to the accident, the traffic on the up track is suspended," he told Geo News.
The police said rescue efforts to recover passengers from the affected bogies are being carried out at the moment. Emergency, as per local administration, has been imposed in nearby hospitals following the accident.
Federal Minister for Railways and Aviation Khawaja Saad Rafique, during a press conference, said he was gathering information about the unfortunate incident.
"Authorities have been alerted […] the railway secretary is present in Nawabshah," the federal minister added.
It may be noted that the same locomotive — heading to Hevelian from Karachi — had escaped a grave accident in March this year after railway officials put a rusted train on tracks. Fortunately, no one was hurt.
The latest accident came just a day after three coaches of Allama Iqbal Express — travelling from Karachi to Sialkot — derailed, but no one suffered injuries.
Pakistan has a shoddy record when it comes to accidents involving trains. In the past decade, the country has witnessed a number of deadly train accidents, and they seem to have increased in frequency over the past few years.