Eugenia Ivanissevich's works showcased in the Capital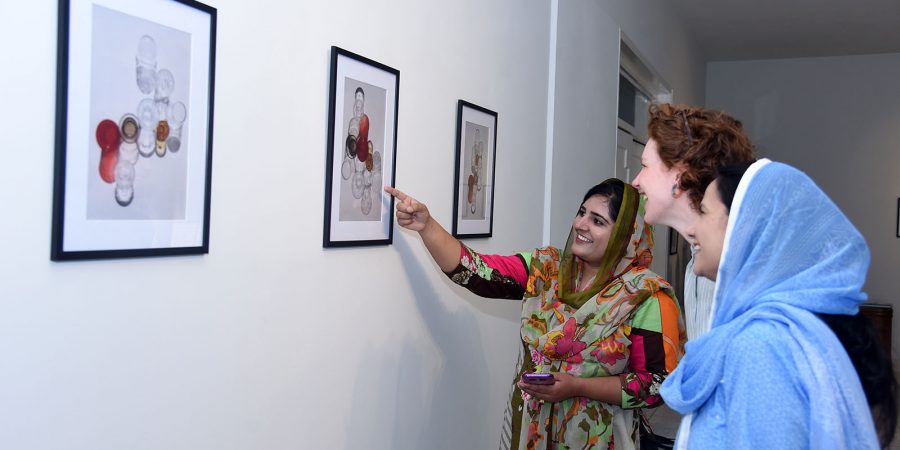 ISLAMABAD, MAY 29 (DNA) A photographic exhibition of works of Eugenia Ivanissevich was arranged under the aegis of Embassy of Argentina.
Art lovers and members of the diplomatic corps attended the event and took keen interest in pieces of art displayed during the exhibition.
Eugenia Ivanissevich lives and works in London.  She holds a Masters in Photography of the Royal College of Arts, and a BA in Fine Arts of Central Saint Martins College of Art & Design, London.
Her solo shows include the 2009 Format Festival, Young Emerging Artist Commission Award, QUAD, Derby; and "Lo histórico y lo imaginario de Casa Mojana" (History and Imagination of the Mojana House), 2009, Spanish Cultural Centre, Montevideo, Uruguay.
She took part of many group shows in London, including the 2012 LEICA Student Prize, Dyson Building, Royal College of Art; the 2013 PINTA London Latin American Art Fair; the 2015 PHOTO LONDON; the 2017 exhibition "How Looking Gets In The Way Of Seeing," at the Twelve Around One Gallery; and the Exhibition this year at Peckham 24, London "Material/ Immaterial".
She also showed her works at the 2010 URRA Artists in Residence exhibition at the Galeria del Infinito, Buenos Aires, Argentina; the 2012 Féstival de Photographie de Deauville, France; and the 2016 Altitude + 1000 Festival de Photographie de Montagne, Rossinière, Switzerland.
Eugenia Ivanissevich in 2013 won The Arts Foundation Award 2013 (UK), Still Life Photography Category.
In 2018 she was shortlisted for Prix Louis Roederer, Festival de Photographie de Deauville. Royal College of Art Travel Bursary. In 2011 LEICA Prize competition she remained runner up.
Her other awards include Royal College of Art David Vilimer Award. Royal College of Art, Travel Award. 2009 FORMAT 09 Exposure Commission Award to Young Emerging Artist, QUAD.
She lectured at British universities and cultural centres in Buenos Aires (Argentina) and Montevideo (Uruguay).  Currently she lectures at the University of Bournemouth and is a Masters Degree tutor at the Royal College of Arts.
Her publications include HEILAN The Best Chinese Contemporary Literature (2013), issue 125, which featured her series "On the Island"; the catalogue of her solo 2009 exhibition  "Lo histórico y lo imaginario de Casa Mojana" (History and Imagination at the Mojana House); and the collective experimental book "Material/ Immaterial" (curated by Rodrigo Orrantia), presented at Offprint Paris 2018.=DNA
============