𝐀𝐟𝐠𝐡𝐚𝐧 𝐃𝐞𝐥𝐞𝐠𝐚𝐭𝐢𝐨𝐧 𝐂𝐚𝐥𝐥𝐬 𝐨𝐧 𝐂𝐡𝐚𝐢𝐫𝐦𝐚𝐧 𝐇𝐄𝐂 𝐭𝐨 𝐃𝐢𝐬𝐜𝐮𝐬𝐬 𝐉𝐨𝐢𝐧𝐭 𝐀𝐜𝐚𝐝𝐞𝐦𝐢𝐜 𝐄𝐧𝐝𝐞𝐚𝐯𝐨𝐫𝐬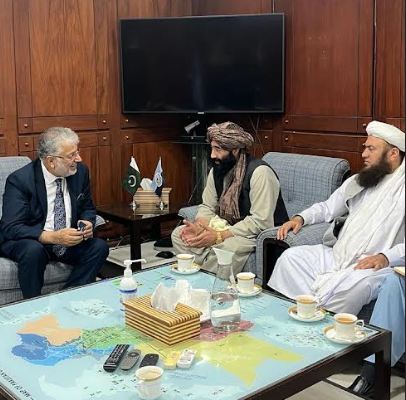 DNA
ISLAMABAD, OCT 18: A delegation of senior officials from Afghanistan called on Chairman Higher Education Commission (HEC) Dr. Mukhtar Ahmed at HEC Secretariat. The two sides discussed issues of mutual academic interest, including joint research programmes, student and faculty exchange efforts, training of Afghan faculty and civil servants, and scholarships for Afghan students to study in top Pakistani universities.
The Afghan delegation was led by Dr. Nazar Muhammad Irfan, Director of Foreign Affairs and Scholarships, Ministry of Higher Education of Afghanistan. The Chancellor of the Afghan International Islamic University Kabul, Dr. Rafiullah Ata, along with two Deans, Mr. Abdul Hai Kaiwaan, Faculty of Engineering and Mr. Nisar Ahmed Zahid, Faculty of Agriculture were part of the delegation. From HEC side, Director General HEC (Scholarships Division) Mrs. Aayesha Ikram and Project Director Mr. Jehanzeb Khan also attended the meeting.
Dr. Mukhtar Ahmed briefed the delegation about HEC's core functions including human resource development, funding for research projects, and steps for developing physical and technological infrastructure. He offered the Afghan delegation HEC's ceaseless support in developing academic systems in the universities of Afghanistan, including setting up digital libraries, Smart Classrooms and labs, Educational Resource Networks, training & exchange of faculty and sustainable ICT systems. The delegation appreciated HEC's support during the last decades and hoped the existing Pak-Afghan collaboration in the field of higher education grow further.