​​ Public Diplomacy Initiative "Celebrating Pakistan" launched in France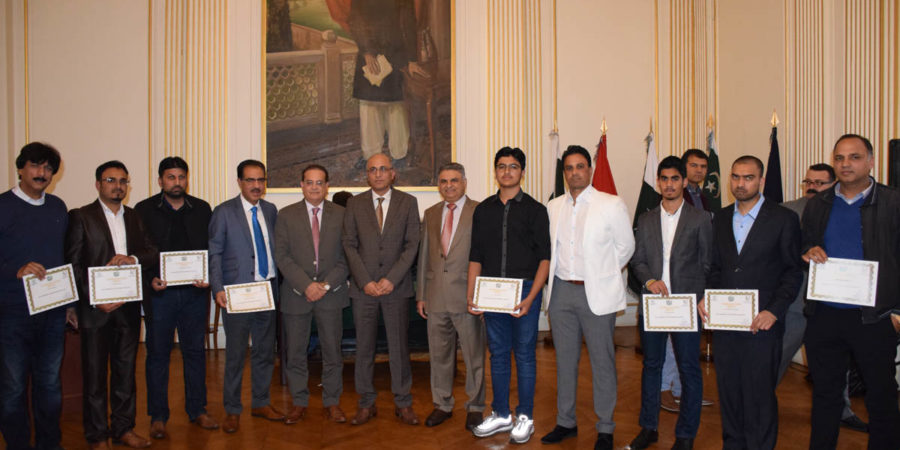 PARIS, OCT 27 (DNA) – A number of promotional and cultural events organized in various cities of France under the Embassy's Public Diplomacy initiative "Celebrating Pakistan" launched last year has greatly helped to further improve the soft image of Pakistan in France.
This was stated by the Ambassador of Pakistan to France Moin ul Haque at a special ceremony held yesterday in the Embassy of Pakistan to acknowledge and appreciate the efforts and contributions of the members of Pakistani community to make the first ever grand Pakistan Festival held near Paris last month a resounding success.
The Ambassador praised and thanked all the organizers, volunteers and sponsors for their hard work and support. He noted that this exemplary unity and solidarity demonstrated by the members of the community for a common cause has strengthened the image of the community in France.
In his remarks, the Ambassador said that under the Embassy's Public Diplomacy initiative titled 'Celebrating Pakistan' a number of events were held in various cities of France which included Qawali concerts, mango festival and a fashion show in Paris, setting up of cultural pavilion in the French city of Lyon, Pakistan Festival held in the French city of Avon, and Pakistani pavilion at the International Gastronomy Festival in Paris.
He said that Pakistan's rich history and cultural heritage, arts & crafts, cuisine and music showcased during the Pakistan Festival and other events created a positive impact about Pakistan and its people in France.
Ambassador hoped that the Pakistani community will continue to join the Embassy in its efforts to promote Pakistan with same spirit and zeal in future as well.
Later, the Ambassador distributed certificates of merit to the organizers, sponsors, volunteers and media persons.